A MOMENT OF RELAXATION AND WELL-BEING
SPA De l'hôtel de brunville BY PHYTOMER

"In creating the Spa du Grand Luxembourg, we wanted to provide you with the best of the spa.
The Spa of the Hotel de Brunville, located in a 200 m² space, is the result of a search for the best equipment and well-being treatments.
In the heart of Bayeux's historic town centre, our Spa is the ideal place to relax and pamper yourself in Normandy.
The Grand Hôtel du Luxembourg / L'Hôtel de Brunville invites you to let go and recharge your batteries by coming to Bayeux to take advantage of our new offer: jaccuzi, sauna, hammam, 4-season sensory shower, salt grotto with infrared deckchairs and tailor-made PHYTOMER treatments for total relaxation.
The wellness area is available to hotel guests upon reservation. For external guests, it is also accessible before or after a treatment of at least 60 minutes or at a cost of €35.
For duo treatments, please send us an email to confirm availability. 
Salt grotto & infrared sunbed
SAUNA, HAMMAM, SALT GROTTO & INFRARED DECKCHAIRS, 4 SEASONS SHOWER & JACCUZI
#ANTI-STRESS #PUREDETENTE
Enjoy a complete relaxation programme: in the dry heat of the sauna, in the humid heat of the hammam, in the whirlpools of the jacuzzi, in the sensory shower with the rhythm of the 4 seasons to stimulate your senses or on the infrared deckchairs in the salt grotto. A moment of pure well-being for couples, families or friends...

Our solo or duo massage cabin is at your disposal for a relaxing interlude. A moment of relaxation to be experienced alone or as a couple. Relaxing, Ayurvedic, detoxifying massage... Trust our passionate team and discover the PHYTOMER treatment that suits you.
Discover our Christmas selection: Give the art of relaxation with our Phytomer gift sets
The Hydration Ritual
Discover Le Rituel Hydratation with a HYDRA ORIGINEL melting cream and a SCRUB MARIN as well as the Phytomer pouch. Only in shop.
The Gentle Ritual
Discover the gentle ritual with a DOUCEUR MARINE cream and a plant-based PEELING with natural enzymes, as well as the Phytomer pouch. Only in shop.
The Christmas Diamond
Discover OLECORE Moisturizing Body Lotion & CITADINE Radiance Defying Mask. Only in shop.
The personalised box
Discover our 100% gift box, customizable with all our Phytomer products, available in shop.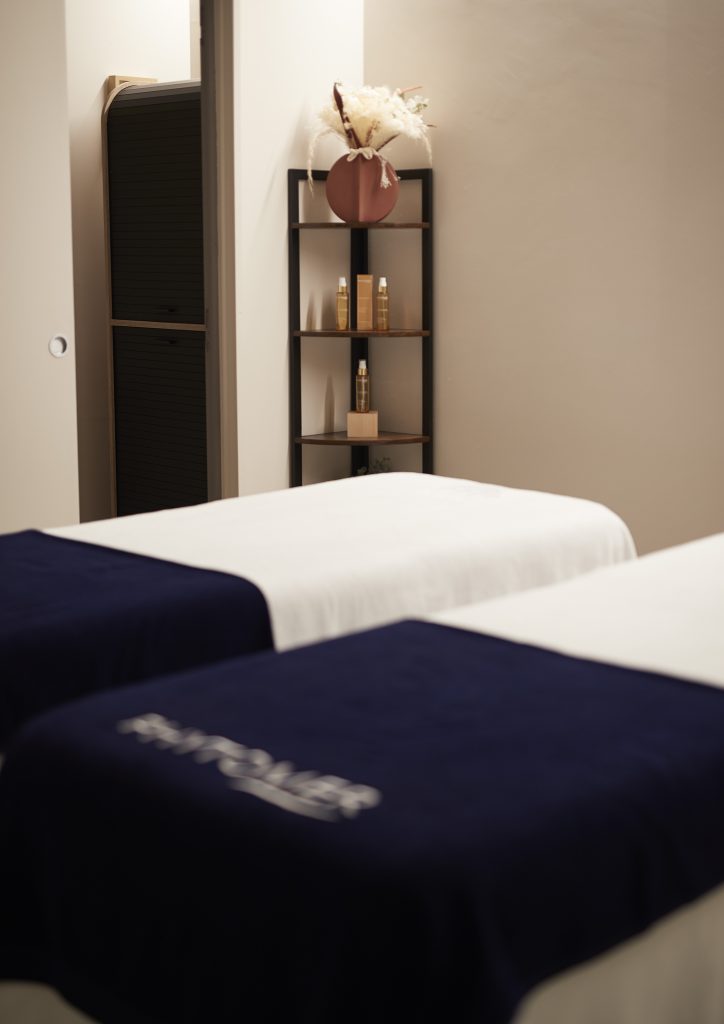 SPA PRIVATISATION
Explore the exclusivity of our SPA privatisation offer, an invitation to enjoy the sublime experience of relaxation in complete privacy, shared with your loved ones.
DUO Offer - €150 for 2 people - 2H
Included in the offer:
Mignardises platter
One glass of bubbly per person
Possible at extra cost:
30-minute massage for €45 (available from 10am to 8pm)
Group offer - from 4 to 8 people - €50 per person - 2H
Possible at extra cost:
30-minute massage for €45 (available from 10am to 8pm)
Mignardises platter - €5 per person
1 glass of bubbly - €10 per person
For more information, contact us!
OUR CARE PACKAGES
Discover our wellbeing packages at the Spa du Grand Luxembourg and treat yourself to a whole year dedicated to relaxation and self-care.
To find out more, contact us!